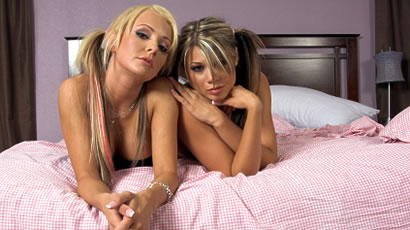 Join us for FREE to get instant email updates!
Let's talk about threesomes.  I'm not a big threesome guy but I do have them occasionally.  Even when I do have them, they usually start out as a threesome but end up with me fucking each woman in turn.  I much prefer the dominance I can exert over a woman in one-on-one sex.  Even if that means I'm having sex with one gal while another naked gal is laying next to her awaiting her turn.
Here's why I do have threesomes, and often encourage my women to engage in them.  It's because threesomes are a way of having sex with a new woman without having to do...anything.  No date, no seduction, no spending time establishing rapport, none of that stuff is necessary if the gal you're seeing brings over another gal she knows to play with.

Case in point, this week I had a threesome with one of my usual gals and a new gal, a model-gorgeous half-black half-Asian 18 year old).  This new gal was a long-term friend of my gal, and the two of them had already "played around" with each other prior to this.

Because of this, because of the "endorsement" the 18 year-old had already received regarding me from my current gal, I was having sex with the 18 year-old within about 2.5 hours of meeting her for the first time, with perhaps 7 or 8 sentences spoken between us.  No "pickup", no "seduction", not much of anything.  Once we had spent a little time together and got back to my place, the two of them were laughing and joking around, and my main gal said (as I've trained her to do) "Let's have a three-way!". The 18 year-old said "Hell yeah!".

And that's why I like threesomes.  If you do it right (by having a gal you're already seeing help recruit new women for you) it's a very quick, fast, effective way of bringing new women into your sex life.

Of course, this assumes you have a very sexual and non-monogamous frame established with the women you date well beforehand.  But that's another story...

Want over 35 hours of how-to podcasts on how to improve your woman life and financial life? Want to be able to coach with me twice a month? Want access to hours of technique-based video and audio? The SMIC Program is a monthly podcast and coaching program where you get access to massive amounts of exclusive, members-only Alpha 2.0 content as soon as you sign up, and you can cancel whenever you want. Click here for the details.
[vc_row_inner][vc_column_inner][vc_raw_html] JTNDYSUyMHRhcmdldCUzRCUyMl9ibGFuayUyMiUyMGhyZWYlM0QlMjJodHRwcyUzQSUyRiUyRmFscGhhbWFsZTIwLmthcnRyYS5jb20lMkZwYWdlJTJGcFU1ODMlMjIlM0UlMEElM0NpbWclMjBzcmMlM0QlMjIlMjBodHRwcyUzQSUyRiUyRmNhbGViam9uZXNibG9nLmNvbSUyRndwLWNvbnRlbnQlMkZ1cGxvYWRzJTJGMjAyMCUyRjA4JTJGVFVNLTcyOFg5MC0xLnBuZyUyMCUyMiUzRSUzQyUyRmElM0UlMEE=[/vc_raw_html][/vc_column_inner][/vc_row_inner]
This article was originally published on September 19, 2010
Join us for FREE to get instant email updates!
Comments
---
Paul C

2015-02-16 09:16:34

I completely agree. This is exactly what happened to me in early 2013. In my case, the new woman was a lot older than 18, but within an hour of meeting her and with only 7 or 8 sentences spoken, we were banging.

sean

2015-11-10 09:47:07

Hey BD, What would you do If you were having a threesome with you're main girl whom you have gotten to the point where you are fucking her without a condom consistently. And a chick you guys picked up together. I worry about wearing a condom and getting the new girls juices inside my girl and then eventually to me next time we fuck alone. In reference to STD's

Blackdragon

2015-11-10 10:27:22

Wear a condom with the new girl, take it off for your main girl. Or have the new girl take an STD test. Condom is probably easier.

Joe K

2016-09-26 08:12:46

I do not have experience with this, but I am wondering if it's emotionally healthier to actually seek out threesomes (or more) as one has to be thoughtful, caring, and considerate of two other people if it's gonna be any good at all for all parties involved. It seems like it might be a better context for maintaining a mindset of giving/sharing rather than taking. So the emotional connection aspect of it might be better, without any regard to how 'cool' it would be for your ego to have 'gotten a threeway' etc.

Padre

2016-10-09 13:32:14

The best way to "test" if a woman is bi or open to have a threesome is this: While in the heat of the passion(usually doggy styling her), I will tell her that I will bring a woman to suck her tits, lick her pussy and eat my cum out of her pussy after I finished. There are only 3 outcomes, 1- she will be upset and disgusted: 2- she will keep quiet but still enjoying me f*cking her, 3- she will moan and shiver in pleasure. Option 2 can be worked out and option 3 is ideal, she is ready to go. This procedure have allowed me to have several 3sums and save valuable time. Enjoy it!

Jameson

2016-11-14 07:14:29

Blackdragon. Please do a blog post or reply to my comment outlining how you setup your threesomes. I have many girls I date just like you, but how do you broach the subject of the threesome to her and how do you work the scenario? I have tried a few methods and almost succeeded but no dice. Most girls get way too jealous and almost want to savatage the situation so I don't leave them. Please outline the process in a blog post. I am assuming you suggest they find the girl? Do you suggest this to every girl or just certain ones? How many times have you banged her (seeing her once a week) before you bring it up? Etc. Thanks

Blackdragon

2016-11-14 10:33:56

I'll make a blog post about it. It's a good question.

kyle

2017-03-17 02:04:11

2.5 hours actually seems like a pretty long time investment. Is that necessary to develop comfort? Do you typically meet "out" then fabricate an excuse to bring them back home, or what about starting things out at home in the first place?