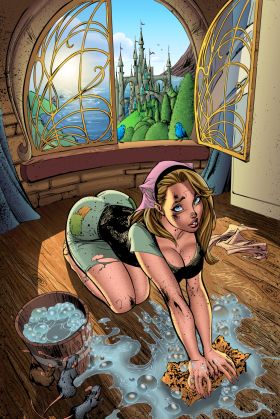 Join us for FREE to get instant email updates!
Alpha Male Fairy Tales: Cinderella
Once upon a time, there was a great and powerful warrior, Lord Mars, who was the champion of many great battles. In time, he took a wife, a beautiful maiden with skin like white milk and hair like spun gold. They had a single daughter, Arabella, every bit as beautiful as her mother. The three of them lived in a great white manor atop a hill along with their retinue of servants, for Lord Mars was a great leader of men.
Though there was sadness when Lord Mars went abroad to fight his wars, the three of them were happy.
When Arabella was sixteen years old, a great plague came to the land, and her mother was stricken dead. Mars and Arabella grieved alike. The day his wife died, a light went out in Lord Mars' eyes...never to return.
A year later, Lord Mars remarried, this time to Lady Tremaine, a haughty and shrewish woman. She moved into the manor along with her two ugly daughters, Drizella and Anastasia.
Immediately the household changed. Lady Tremaine constantly screamed at Lord Mars, ordering him about, forbidding him to leave the house to fight his great battles. Once a great and powerful man, Lord Mars began to cower in the face of his new wife. Lady Tremaine also placed her two daughters in charge of Arabella.
Drizella and Anastasia, jealous of Arabella's stunning beauty, sweet voice, perfect blonde hair, huge breasts, flat stomach, swinging hips, and round buttocks, forced her to preform the most menial of tasks around the manor. Lord Mars, his power as a man drained, was helpless to stop them, lest he be yelled at by his new strong wife.
Arabella's cruel sisters forced her to sleep in a barren and cold room with no bed, forcing her to curl up near the fireplace for warmth. Every morning she would arise covered in cinders, which her sisters would forbid her from washing off, giving her a new mocking name, "Cinderella".
As this was transpiring, the old Emperor sat upon his golden throne, deep within the iron fortress at the center of the great city. He leaned forward, coughed, and scolded his son, Prince Arming.
"The time has come," said the Emperor, "For you to find a wife."
"A wife?" Prince Arming laughed, as he adjusted his twin +5 Katanas of Logic scabbarded on his hip, "What a silly thing. I am a lord, warrior, and prince. I sex whomever I wish, and will continue to do so. Forever limiting myself to one woman? Ha! Surely you are mad, father."
"Be that as it may," said the Emperor, wagging his finger, "For you to succeed me and become Emperor, you must be married. It is the law, one not even the Emperor himself is above. If you do not wish to take a wife, I will have to appoint one other than you. Do not force my hand thus."
"Shit," said Prince Arming, rolling his eyes, "Very well, very well. I shall take a wife then, but I shall continue to sex whom I will."
"As you wish," said the Emperor, knowing that as a young man, he himself did the exact same thing.
The Emperor then recommended several woman he thought would make good wives for his son and future Emperor. Prince Arming laughed, and said instead he would choose his own wife, the most beautiful woman in the land. He decreed that all women wanting to become his wife must attend a ball within the iron fortress. Then, after sampling each that struck his fancy, he would choose the lucky one to be his wife.
Invitations were issued, and Lady Tremaine informed her two daughters that they were attending, and that she would purchase for them the finest gowns to wear. When Cinderella asked if she was also going, Lady Tremaine sneered, "Of course not, fool. Who shall sweep the chimney while we are gone? Certainly you realize our servants require aid!"
Cinderella protested, and Anastasia laughed, and Drizella slapped her across the face, sending her spinning to the floor. Lord Mars stood up to protest their actions, but one glare from Lady Tremaine put him into silence again. He looked down, staring at the floor like a whipped dog, saying nothing.
Cinderella wept from her cold room, her ample bosom heaving, as she watched the four of them, dressed in their finery, leave for the ball.
Suddenly there was a great light, and from the light emerged a Dark Sorceress. "Fear not, Cinderella," the Sorceress said, "For I shall assist you. Years ago Lady Tremaine did me a great injustice, and now I shall affect my vengeance. For you are indeed the hottest woman in all the land. You shall attend the ball, and win the heart of Prince Arming, and put your foul stepsisters and stepmother to shame."
"But, I have no gown," said Cinderella, "No carriage, no slippers, no-"
"Oh just shut up and watch," said the Sorceress. With that, she snapped her fingers, and instantly Cinderella was washed clean, makeup applied, and clothed in the finest and sexiest gown that was ever beheld by man or woman alike. On her feet were two glass slippers that shined like jewels in the firelight.
Again the Sorceress snapped her fingers, and a sleek, black carriage appeared in the courtyard, the like of which Cinderella had never beheld.
"What is that?" Cinderella asked.
"It is called a Lamborghini," said the Sorceress, "And it is self-driving. Go within and it shall take you to the ball at over 200 miles per hour."
Not quite understanding, but obeying, Cinderella entered the Lamborghini.
"One word of warning though," said the Sorceress, "The spell breaks at midnight! So you must leave the ball well before then, lest you reveal this deception."
Cinderella nodded, thanked the Sorceress, and with a whoosh and a roar, the strange carriage took off into the night.
At the ball, Prince Arming lined up all the women in attendance in groups as they entered, picking only the most beautiful ones, and telling the rest to go back home. Then he proceeded to have sex with all the remaining women, often two and three at a time, making careful notes of their performance afterwards on a spreadsheet. After all, he thought, one must make an informed decision about these things.
On and on the night went like this, more women, more sex, until Prince Arming was quite tired and began to think he could take no more...when in walked Cinderella. She was indeed the most beautiful woman he had ever seen, and that was saying something.
He walked up to her, grabbed her by the waist, pulled her mound of perfect blonde hair, and said, "I must have you. Now." Then he proceeded to have sex with her for two hours straight, just her alone, and it was as if heaven became manifest on Earth, not just for him, but for her as well.
Afterward, as he held her close in bed, the clock struck midnight. Cinderella dashed out of bed, grabbed her clothing, and made for the door. Prince Arming asked where she was going, and what the cause was for her rush, but she ignored him and continued to run.
Out onto the street she dashed, into the Lamborghini, and it tore off into the night...but seconds later, the strange carriage vanished, and her clothes became rags once again, but no one saw the transformation.
The next morning, Prince Arming planned to make visits to every home in the land to find the mysterious golden-haired women who captured his heart as well as his cock.
"How do you intend to identify this woman?" the Emperor asked, "After you bedded so many last night?"
"With this," said Prince Arming, and he withdrew a single glass slipper. "Last night, in her mad dash for the exit, she left this in my chambers. All I need to do is go to each home and-"
Suddenly he fumbled, and the glass slipper feel out of his hand and shattered on the stone floor.
"Shit!" he cried.
"Now what will you do?" the Emperor asked.
"Well," said the Prince, "I guess I'll have to have sex with all of those hot women again. Then I shall identify my beauty." With a wink and a smile he added, "Oh, poor me."
For the next several weeks, Prince Arming went all across the kingdom, happily bedding the most beautiful women in the land once again. Eventually, he made his way to Lord Mars' manor on the hill. Lady Tremaine welcomed him, and bade him to make love to her two ugly daughters. When seeing the two, the Prince replied, "Uh, yeah, no. Not in a million years."
Then he spied a dirty girl scrubbing the floor down the hall, whom he assumed was a maidservant, and said, "I will take that maid over there though. She's a little dirty but she'll do."
"Oh my," said Lady Tremaine, "You don't want her. She has herpes."
"Cool," said the Prince, "So do I."
So the Prince made sweet love to the dirty maidservant, and to his shock and awe he discovered halfway though that it was indeed Cinderella, the perfect beauty from the night at the ball.
In a grand ceremony, Prince Arming wedded Cinderella, and he became the new Emperor. His first act was to order the beheading of Lady Tremaine and her two ugly daughters.
From that day forward, Prince Arming and Cinderella in their new open marriage lived happily ever after...
...until they got divorced about seven years later, at which time Prince Arming married a new wife many years his younger, and Cinderella married a beta male who took out the trash whenever she yelled at him.
The End.
Want over 35 hours of how-to podcasts on how to improve your woman life and financial life? Want to be able to coach with me twice a month? Want access to hours of technique-based video and audio? The SMIC Program is a monthly podcast and coaching program where you get access to massive amounts of exclusive, members-only Alpha 2.0 content as soon as you sign up, and you can cancel whenever you want. Click here for the details.
This article was originally published on June 15, 2014
Join us for FREE to get instant email updates!
Comments
---
TarzanWannaBe

2014-06-15 06:04:42

...and their genes lived happily ever after. haha Excellent!

Robert

2014-06-15 06:57:43

lool,I approve this fairy tale!!

Matt

2014-06-15 09:01:55

Got a good laugh out of this!

Onyx

2014-06-15 11:26:07

"A wife?" Prince Arming laughed, as he adjusted his twin +5 Katanas of Logic scabbarded on his hip" Ok I just got up after rolling on the floor in laughter from this. How funny that I just finished playing a little bit of Dark Souls II to see this quote. Great story BD. I'll sleep well tonight knowing all is well in the kingdom. 🙂

jack

2014-06-15 11:54:29

And the point of this? Its pure nihilism that no healthy man would enjoy. You're spitting at the concept of love itself which is sick imo. Waging a war against "Disney" is waging a war against morality itself. If you want to teach men to be players, fine do that but don't pretend that you are morally superior or that any lifestyle that attempts at love and marriage is an expression of weakness and stupidity. A player can be seen as a man who is flawed but benign. A man who mocks love and wishes to destroy marriage and romantic virtue itself can only be seen as EVIL. That's where you are heading. If you're not there already.

Greg

2014-06-15 12:43:38

Was Cinderella the queen getting fucked by all the studs she desired? Did this really not bother the emperor? Were his kids even his, or did this not matter to the great emperor? Since she was of such low condition, couldn't he work out a deal so that he was the only one screwing around? Why lower himself to be her equal, when he was so much more initially? Couldn't he, as the emperor, change the law to have a harem? Would he not be happier like that?

Blackdragon

2014-06-15 13:24:45

And the point of this?

Humor. Something you seem to have missed. And your phone is ringing. I think it's the Catholic Church and the Republican Party calling. Better answer that.

Was Cinderella the queen getting fucked by all the studs she desired?

No. Prince Arming was an Alpha Male 1.0, so he could fuck other women, but she wasn't allowed to fuck other men, because he didn't want a "slut for a wife" or something. Even though he fucked over 1000 women, which didn't make him a slut. (He read a lot of right-wing manosphere blogs.) This is one of the many reasons they got divorced.

Couldn't he, as the emperor, change the law to have a harem?

He tried to, but he was overruled by his Council of Elders. He had them beheaded of course, but it was already too late. Changing the law after that would have looked too bad.

Stephen

2014-06-15 14:27:02

I found the story very amusing. Of course many real monarchs did live the Alpha Dream. For instance, the Emperor Franz Joseph used to have sex with all kinds of hot courtly ladies before he married. He was engaged to a Bavarian princess he wasn't too crazy about and eventually got his representatives and her royal father to do away with the engagement in favor of him marrying her way hotter younger sister, Elizabeth. He married Elizabeth and had four children with her while she was forced to practice monogamy as he continued to bed all sorts of young hot women on the side. It was a good royal imperial life. He got the pleasure of knowing his children were his and got all that dreamy pussy! The beta "romantic virtue" was for... well betas!

lifeofalovergirl

2014-06-15 15:52:35

Hell, if you want stories like this read the freaking Bible, lol. The story of Esther always threw me for a loop. Dude gets pissed because his wife won't parade around naked in front of his friends so he fucks all the young women in the kingdom in some sort of a "contest" to find a second wife. SMFH.....

Greg

2014-06-15 16:05:20

"From that day forward, Prince Arming and Cinderella in their new open marriage lived happily ever after…" "Prince Arming was an Alpha Male 1.0, so he could fuck other women, but she wasn't allowed to fuck other men, because he didn't want a "slut for a wife" or something. Even though he fucked over 1000 women, which didn't make him a slut. (He read a lot of right-wing manosphere blogs.) This is one of the many reasons they got divorced." Oh boy...

Anon

2014-06-15 17:27:47

As with the author of this fairy tail, I also agree that love is a dead end as far as 1's unalienable will to power is concerned. How can someone have any power when their at they're most vulnerable? SubMissions in this framework can only be construed as weakness. However, I strongly disagree that this viewpoint is one of nihilism. Insofar as nihilism is the argument that life is without objective meaning, this story is not nihilistic; rather, it is the manifestation of PRIDE as 1's object of sin of choice. PRIDE as the source of 1's life energies. Any life lived inSinuating remains unfulFilling. And what is a reasonable definition of such a sin? "An inferior man's reaction upon unceremoniously being made aware of a surprisingly superior force." I wonder how such a prince would react if the Cinderella he had so meticulously chosen left him not because of some tenuously defined conceptualization of 'human nature' (which you use throughout your writing as a very crude substitute for GOD) but because of His Own Sins? I propose that it would create a Blackdragon. Dude, I get it that losing your first wife sucked. But there's no need attack the concept of love altogether. Believe it or not, I have met a few people in my life who find inherent meaning in roMANtic love… The fact that they are all men does not presume that human nature is flawed, but that men and women are "unequal" as per the textbook definition. As a "red pill" kind of guy, you already knew of the cultural lie of equality between the sexes, and so that is why I must call you out on your attempt to cover this lie with lies of your own. Pride is a terrible substitute for love in my opinion.

Blackdragon

2014-06-15 18:36:28

Yes. Clearly, anyone who has read my posts on this blog know I am completely opposed to romantic love. Yes. Down with love!

Anon

2014-06-15 19:58:22

Honestly cloaked in sarcasm! What a clever defensive mechanism.

Blackdragon

2014-06-16 11:43:35

Oh yes. Just read this post I made back in 2011 if you think I'm against love. I'm against Societal Programming, marriages without prenuptial agreements, and long-term monogamy. Love is wonderful as long as you keep those three things out of it.

Bellum

2014-06-17 03:12:19

The problem with polygamy or even serial monogamy, as I see it, is that when one woman is vastly superior and enjoyable, there's no going back. It would be like trying out all the fastfood pizza places after finding a divine authentic Italian restaurant. How do you cope with this?

Bobby

2014-06-17 06:02:00

I politely disagree with your argument.There is a Japanese restaurant that I really enjoy but If I eat there all the time,I get fed up,so I usually rotate with a Thai restaurant,no fast food for me...lol I took some sexuality classes at university and one thing that we learned is that sex with one person as incredible as it gets becomes less exciting with times.But that can be overcomed with a lot of work and creativity but it's a huge burden to place on a partner.Our teacher mentioned that there is no ideal relationship,it only has to be something that both partners can live with and if it's not the case they move on. Actually,studies are pointing the fact that women might not be monogamous and this doesn't surprise me.

Stephen

2014-06-17 08:32:21

I agree with Bobby. There is no woman who is "superior" enough that eventually a man won't tire of exclusively bedding her. The hard monogamy concept violates human nature with this construct. Most men are naturally polyamorous and most women are naturally hypergamous. Pre-modern circumstance and societal rules in earlier ages of greater scarcity tried to suppress these facts but facts they remain.

Blackdragon

2014-06-17 10:12:49

The problem with polygamy or even serial monogamy, as I see it, is that when one woman is vastly superior and enjoyable, there's no going back. It would be like trying out all the fastfood pizza places after finding a divine authentic Italian restaurant. How do you cope with this?

Will you be perfectly happy eating at that only that particular Italian restaurant forever, going to no other restaurants, for the next 45 years straight? Would it be a good idea to make that promise to that restaurant? Is that a feasible lifestyle to assume?

MasterDev

2014-06-17 14:32:44

"Oh my," said Lady Tremaine, "You don't want her. She has herpes." "Cool," said the Prince, "So do I." LMAO!!

Bellum

2014-06-18 00:12:42

"Will you be perfectly happy eating at that only that particular Italian restaurant forever, going to no other restaurants, for the next 45 years straight?" There is no Thai or Japanese food, there's only Italian food and all that differs is the quality of said food. Why would I want to try something new just for the sake of it being new, knowing from experience that in the end it's always the same heterosexual dynamics. Considering that most women don't know and have to be taught how to properly make love, even gratuitous sex quickly loses it's appeal. "Would it be a good idea to make that promise to that restaurant? Is that a feasible lifestyle to assume?" Never! I.m.o. this is the root of the problem, and not the concept of serial monogamy. Marriage in your country is an irrational risk. Imagine legal equality, coparenting as the rule, that the marriage took little effort to end and didn't require a proof of guilt, that you only had to pay alimony for your wife if she earned significantly less and for a limited amount of time to get her back on her feet (or vice versa, if you earned less than her), and that the person who paid for the house got to keep it. In my country we have this system, and people just do as they please. Many men also desire a stable family life. There's a time and place for polyamory and there's one for monogamy. How would you rear newborn children outside of a monogamous relationship? Would you desire anything other than sleep when being woken every three hours to feed an infant? Btw, I really enjoy your blog and think it has a lot of very sound and much needed advice.

Blackdragon

2014-06-18 01:06:09

There is no Thai or Japanese food...

Notice you did not answer my question. You know damn well at at some point over many years, you'd want to badly have sex with someone else. I agree it could take a few years, perhaps many years, but would happen, unless you hate sex or have a low testosterone problem. And these desires are OKAY. It's human and normal. Long-term monogamy isn't (though one could argue short-term serial monogamy could be...I have much less of a problem with that). It's perfectly OKAY to admit that long-term monogamy probably won't work. The sooner society can reach this point, the better we'll all be.

How would you rear newborn children outside of a monogamous relationship?

If you're asking that question, you need to do a lot more reading on this blog. The answer is not polyamory, but a discreet open marriage (OLTR marraige). To get started, read this, items 5, 30, and 33. Then read this and this.

Bellum

2014-06-18 02:39:41

Perhaps we are just different people with different needs. I want sex every day or at least every other day, and preferably a blowjob as well, and have never had a problem getting it. In the beginning of a relationship it usually borders around five times a day, and later on it wanes to once or twice a day. I've noticed my libido has dropped a little now that I'm getting older, so once or twice a day suits me fine. To answer your question: I only want a woman I'm in love with. If I desire another, then I'll go get another. I've ended all my relationships the past 13 years for another. Without oneitis, it all becomes rather bland and boring. Even the thrill of the hunt and the eventual conquest bring little satisfaction when your not playing for keeps. One could compare it to playing a game with no possibility to lose. Your open marriage combines stability and freedom, but it lacks excitement. It's an excellent way to lead your life as a man if you want to play it safe and have an enjoyable, stable life full of women and sex, but it's not for me.

Vaquero357

2014-06-18 20:55:59

"I'm against Societal Programming, marriages without prenuptial agreements, and long-term monogamy. Love is wonderful as long as you keep those three things out of it."

"Never ruin coffee with sugar or love with marriage." --Old Russian saying. Or so I was told, by a former LTR of mine (who was Russian). ***** The Long-Term Monogamy Problem (or at least one part of it): When Viagra and Levitra and other ED products hit the mainstream, I kept wondering how so many guys can have trouble getting it up. Now, I've figured it out: I'll bet a lot of them are guys who are gritting their teeth and trying to keep decades-old monogamous relationships going. One of the kids at work (OK, he's 30, but I'm almost 49) is all ramped up to get married - already knows EXACTLY what he's in for, knew it before he'd gotten engaged and set the date, etc. I asked him why's he doing it? Answer: sad, weak smile, "Well, you know, you just have to do it....." When it comes to changing societal programming, THAT'S what we're up against!

keto chips

2021-08-04 23:01:29

keto ice cream bars

gay dating in a rural area

2021-08-09 08:06:58

free gay dating web sites https://gaychatgay.com/

largest gay dating sites

2021-08-09 15:52:08

best gay dating hornet https://gaychatus.com/

best free sites for gay dating

2021-08-10 08:50:26

recan gay dating bdsm https://gaydatingzz.com/

gay dating in japan

2021-09-01 09:23:26

orange county gay trans dating https://freegaychatnew.com/

professional gay men dating

2021-09-08 16:11:27

spanish gay dating site https://dating-gaym.com/

gay online dating subculture

2021-09-09 02:46:22

gay dating free https://gayedating.com/

write college essays<

2021-09-28 14:51:55

essay writing books https://essaywritercentral.com/

write an expository essay

2021-09-28 17:39:06

write a personal essay https://essayghostwriter.com/

mobile slots

2021-10-19 03:27:07

best online casino to win money https://onlinecasinos4me.com/

play mobile casino

2021-10-19 03:31:11

usa casinos on line https://online2casino.com/

free no deposit

2021-10-26 16:18:20

mobile casino games for real money https://onlinecasinoad.com/

best online casino us

2021-10-26 20:11:13

top online casino real money https://casinoonlinek.com/

free no deposit casino

2021-10-26 23:24:56

real money no deposit casino https://casinoonlinet.com/

write my essay online

2021-10-29 11:31:25

what to write my college essay about https://essaytodo.com/

essays to write

2021-10-29 15:51:56

write an opinion essay https://student-essay.com/

american sex games

2021-11-24 09:02:16

sex olympic games https://cybersexgames.net/

pov sex games

2021-11-24 18:22:33

games of sex https://sexgameszone.com/

my sex games

2021-11-26 07:05:07

valentine sex games https://sexygamess.com/